Raymond
Loewy Personal
Avantis
Raymond Loewy owned more than one personal Avanti. Loewy owned two nearly identical 1963 Studebaker Avantis equipped with an R2 supercharged 289-cu.in. V-8, automatic transmission and adorned with custom fender badges for the designer. Avanti R3422 lived at Loewy's Palm Springs, California home, while R4578 went to Loewy's home in France. Both are beige with matching interior. R3422 was originally sold at the McCormick Auction in Palm Springs in 1986, following Loewy's death. It was recently offered again for sale as part of the Los Angeles Modern Auctions sale. Loewy's 1972 Avanti II was originally Pewter, but repainted under Loewy's direction to black. The designer had the (II) script removed from the front panel. The car is retrofitted with original Studebaker Avanti hubcaps and the tires are blackwall. The car's Serial Number is RQB1829. The Avanti II sold at Bonhams Auction in May 2012 with french registration plate number 311 LGH 7. Loewy was apparently confident enough in the quality of the cars Nate Altman produced to consider them a 'continuation' of the original Studebaker Avanti.


Raymond Loewy's 63 Studebaker Avanti, R3422.. Notice the three-tone paint: the lower body is beige while the roof is white with a gray panel inset above the windows.

French Avanti owner Daniel Chouin found Loewy's first R2 Avanti quite by chance from reading an ad in a magazine in 2008. He bought Avanti R4578 from Georges Berbet, who originally purchased his Avanti from Ets Dujardin, the Studebaker dealer in Paris. He bought this Avanti in February 1965, the previous owner, Raymond Loewy, and a virtual twin to the above Avanti.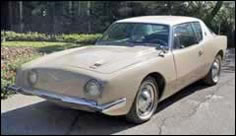 Loewy's personally ornamented 1963 Studebaker Avanti.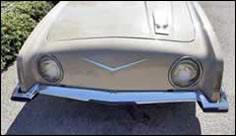 Loewy's unappealing ornamentation added to the front-end.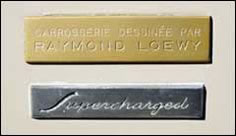 Fender badges for designer and supercharger.

Raymond Loewy's 1972 Avanti II.