1963 Lamborghini
350 GTV Prototype
The 350 GTV was Lamborghini's first prototype design and forerunner of the later 350 GT, Lamborghini's first production model. The Avanti was introduced in the spring of 1962 only months before the 350 GTV was presented to the public during the 1963 Turin Auto Show. The 350 GTV featured a semi-fastback body designed by Giorgio Prevedi under the supervision of Franco Scaglione. The Italian-named Avanti's full-fastback body was designed by Raymond Loewy Associates, the world's largest design firm. For the Lamborghini Giotto Bizzarrini developed a 3.5 litre racing-specification V12 engine with an output of 255 kilowatts (347 PS; 342 bhp) at 8,000 rpm, and torque of 326 newton metres (240 lbf·ft). Studebaker boasted of having produced what President Sherwood Egbert proclaimed as "the world's fastest production car." The Avanti has established a legacy of timeless design and provides its own unique driving experience.
DW News Magazine mentions the Lamborghini 350 GT in its appealing Avanti appraisal:
DW News Avanti Video

The unique Lamborghini with chassis number 3500GTV 0001 would later be restored by Romano Bernardoni, owner of Emilian Auto in Bologna after the prototype had been stored for over 20 years inside, and outside the factory.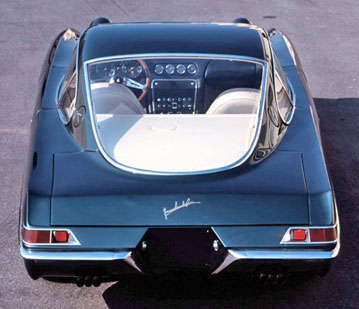 The view from above with the tapering window merging into the squared-off rear deck.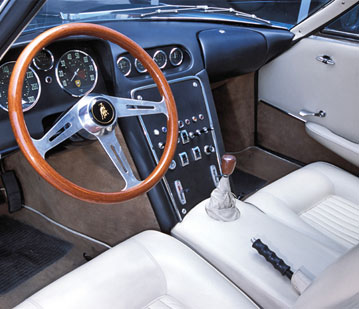 The interior is both luxurious and functional.

A 1963 Studebaker Avanti coupe. A "Different by Design" Studebaker with an Italian name and an American legacy.