Fox News –
Top Five Luxury
Muscle Cars
Hagerty/Fox News - The formula for classic American muscle is pretty straightforward – stuff the biggest, most powerful engine possible into the smallest car, go really fast in a straight line. Sure, if you checked the right boxes, you could get cushy stuff like power windows, air conditioning and an automatic transmission, but most of these options just add weight and aid your competition at the next stop light. An interesting brand of personal luxury muscle car thrived briefly. Here are five of our favorites. (Edited)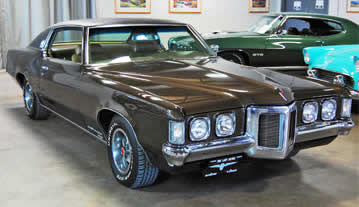 1. 1969 Pontiac Grand Prix SJ-
The Grand Prix was John DeLorean midway between the Pontiac GTO and the sports car with his name. With a 390 hp 428-cid High Output V-8 and a four-speed, there wasn't much that could embarrass a GP.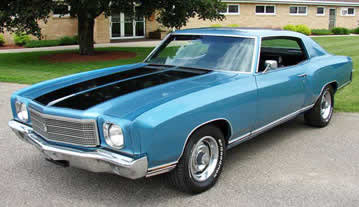 2. 1970 Chevrolet Monte Carlo SS-
The Monte was Chevy's answer to the Grand Prix. The Monte was only a few hundred pounds heavier than a Chevelle, so performance was closer than you might think.

3. 1967 Mercury Cougar XR-7-
Ford decided that its Mercury division needed a personal luxury/pony car. While still very much a Mustang underneath, the more generous overhangs, slimmer profile, hidden headlamps and sequential tail lamps made the Cougar an irresistible mascot for the Mercury lineup. XR-7s added better interiors that looked very British, with simulated wood and gauges and toggle switches. With a 390 cubic inch V-8 making 335 hp, it had little trouble showing its distinctive tail lamps to much of the competition.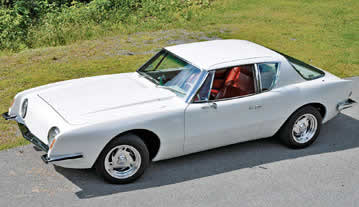 4. 1963 Studebaker Avanti-
The Avanti was a last gasp, Hail Mary play by Studebaker corporation. You either love or hate the looks. Less polarizing is the car's performance, with the supercharged R2 289-cid V-8 with a four-speed manual transmission. Amazingly, R2 Avantis in need of some minor work still can be had for $20,000 or less.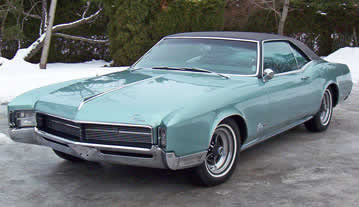 5. 1967 Buick Riviera GS-
The 1966 Riviera has a sleek fastback roofline. It shared the same platform as the Olds Toronado and Cadillac Eldorado - both were front-drivers while the RIviera retained a traditional rear wheel-drive setup. We're partial to the 1967 model for its optional disc brakes and the 430 cubic inch, 360 hp Buick V-8.