Below are the the back and front of a Studebaker dealer postcard from the Avanti era
. This card features the 1964
Studebaker
GT Hawk. The photograph at bottom left shows a Studebaker Avanti parked in front of a modern residence where people are gathered in evening dress. The setting could be inside a studio, but is more likely a private house in Palm Springs, California. The car shown is probably painted Avanti Gold. The photographn at bottom, right was created as part of Studebaker's Avanti advertising campaign.
The figure at the far right is Raymond Loewy and to his right with hand on the door frame is Sherwood Egbert.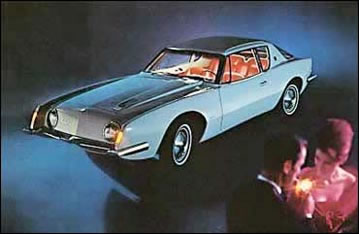 This car, like others used in the ads, was dramatically lit from inside the passenger compartment.